Strategy & Creative Direction Case Study : Trend Forecasting for Kroger
The following case study details the process I developed and implemented during my four years working with Kroger. I was a member of their in-house creative agency, also known as the Trend & Product Development Department, located in SE Portland, Oregon.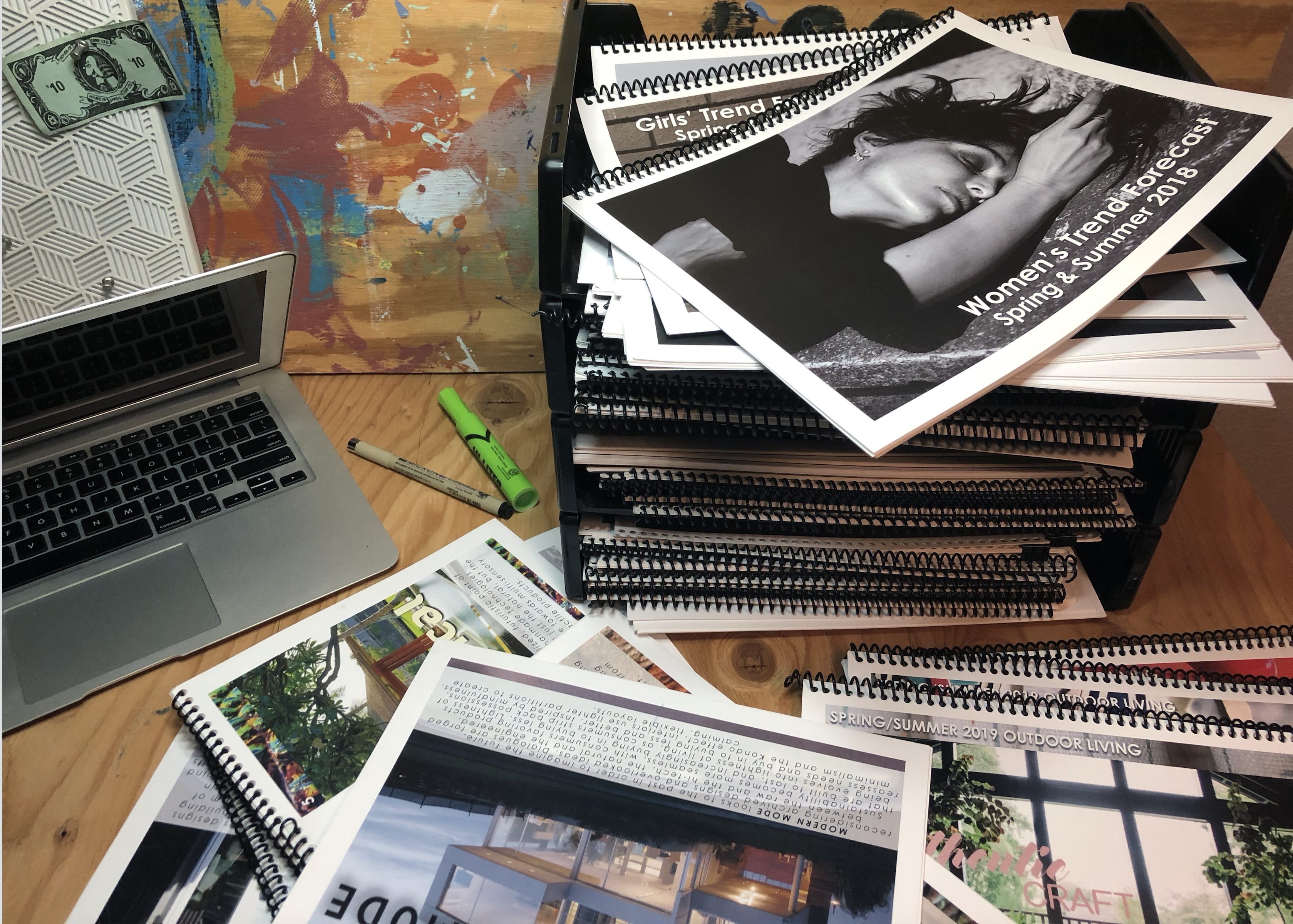 What was my role? Associate Creative Director – Trend Forecasting Specialist

How does trend forecasting apply to creative direction and strategy? Trend forecasts affect the business, brand, and marketing across all stages of the product life cycle. I strive to create consistency through a collaborative approach to creative direction, product development, and marketing campaigns.

What are the goals & outcomes of trend reporting? When done correctly, trend reports should be a high-level conceptual guide for every team across an enterprise and family of brands. These reports allow for the delivery of a cohesive message to the customer across all touchpoints in their brand experience.

Who did I collaborate with? Apparel & Home Division Managers, Creative Managers, Product Development Managers, Senior Art Director, Design & Art Team, Freelance Artists & Designers, Color Specialists, Packaging Design Team, Product Development Teams, Retail Buying Teams, Digital Marketing Team, Print & Broadcast Advertising Teams.

Who were the stakeholders affected by my work? Executives, Domestic Vendors, Overseas Manufacturers, Operations & Logistics, Visual Merchandisers, E-Commerce & Web Teams, Retail Sales Associates, and Customers.



SEEING THE CONCEPTS
The first step in my process was looking at cultural indicators that hint to emerging trends. I used a variety of resources, including social media, blogs, trade publications, magazines, marketing campaigns, products, retail design, and seasonal tradeshows. By focusing on recognizing patterns and reoccurring details, my ideas flowed together to create relevant connections. My research process took weeks and covered an expansive range of zeitgeist. Next, I began to synthesize and assemble images into a compelling story that could be used to guide the brand across all touchpoints. The images below are intended to give a visual overview of my research process.


EVOLVING THE DESIGN & LAYOUT
I found that concepts are often compiled through a chaotic shuffle. After many iterations, I reached the clarity of the message and curated visuals to match. My vision is refined dozens of times to ensure that each section of the report tells a complete story without detracting from other product categories. The images below show the beginning stages of designing the SS2019 Trend Reports.


PRESENTATION & CREATIVE DIRECTION
Bi-annually, I showed new concepts to key stakeholders across all departments and divisions. My goal was always gaining the buy-in of every team involved; I did this by facilitating many meetings and discussions to determine future product assortments. Our decisions were made by studying the last year's successes while finding ways to develop fresh deliveries of colors, materials, and aesthetics. The images below show covers of the
FW2017
&
SS2018
Ready-to-Wear Trend Reports.
PRODUCT DEVELOPMENT
Our collective goal was to focus on design and functionality for a mass-market price while relying on trend-right color, surface decoration, and attractive materials to appeal to consumers. We worked to distill the concepts into products, which takes the work of hundreds of people, including product developers, surface designers, art directors, manufacturers, and buyers. The images below show development of
FW2017 Women's Sleepwear,
FW2017 Young Men's Apparel,
and
SS2018 HyperTropical Interiors
collections.
VISUAL MERCHANDISING
Our team spends about 18-months in development before thousands of new products begin to arrive in retail stores. The trend reports are then used to aid in the assortment, allocation, visual merchandising, and retail design, which gives the customer a holistic brand experience when shopping. This strategy influences each touchpoint, and my creative influence is seen from the product design to the point-of-sale signs. The images below show in-store displays of
FW2017 Back-to Campus
and merchandising inspiration for the
SS2018 Coastal
&
SS2018 HyperTropical
Outdoor Living collections.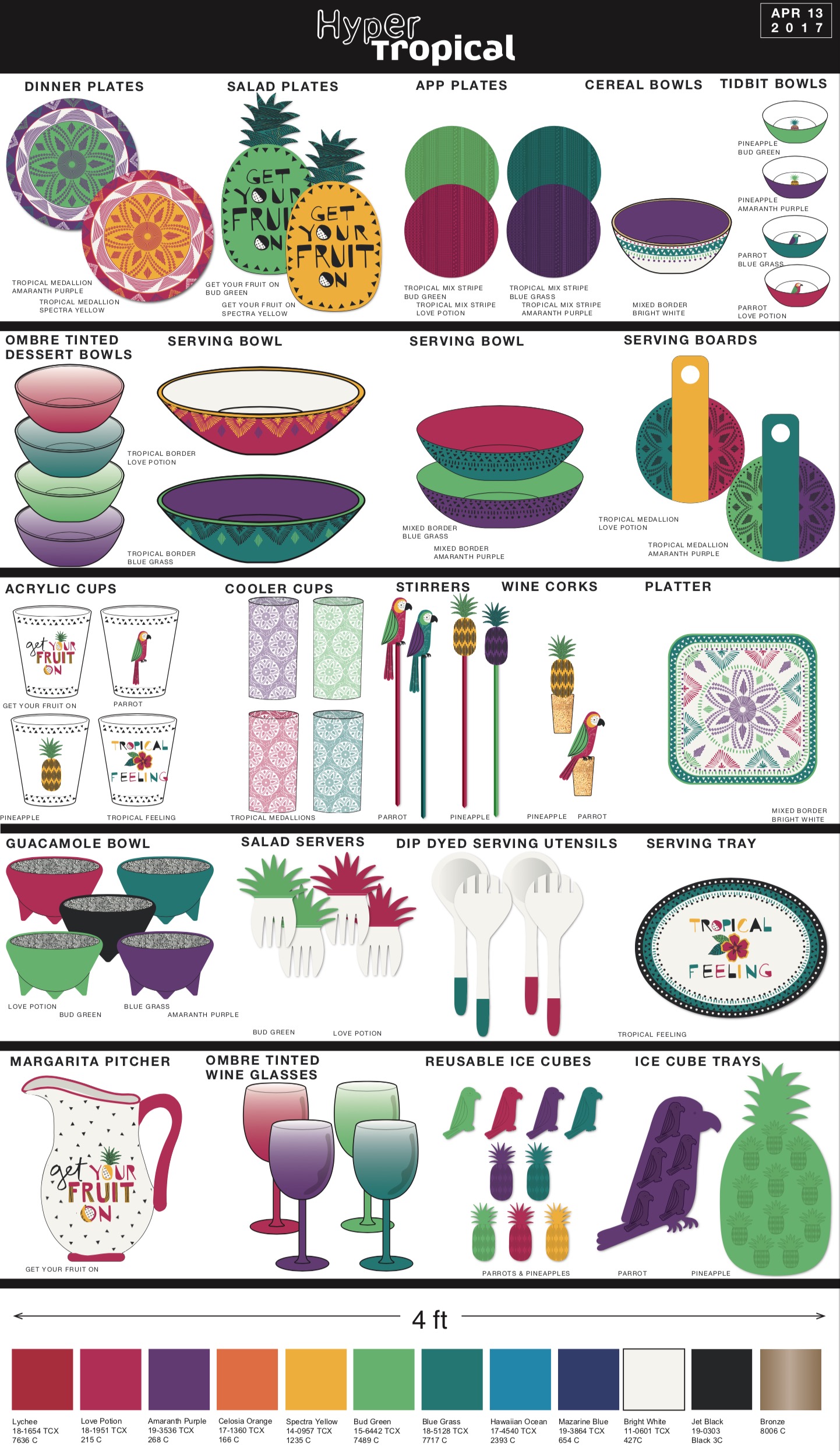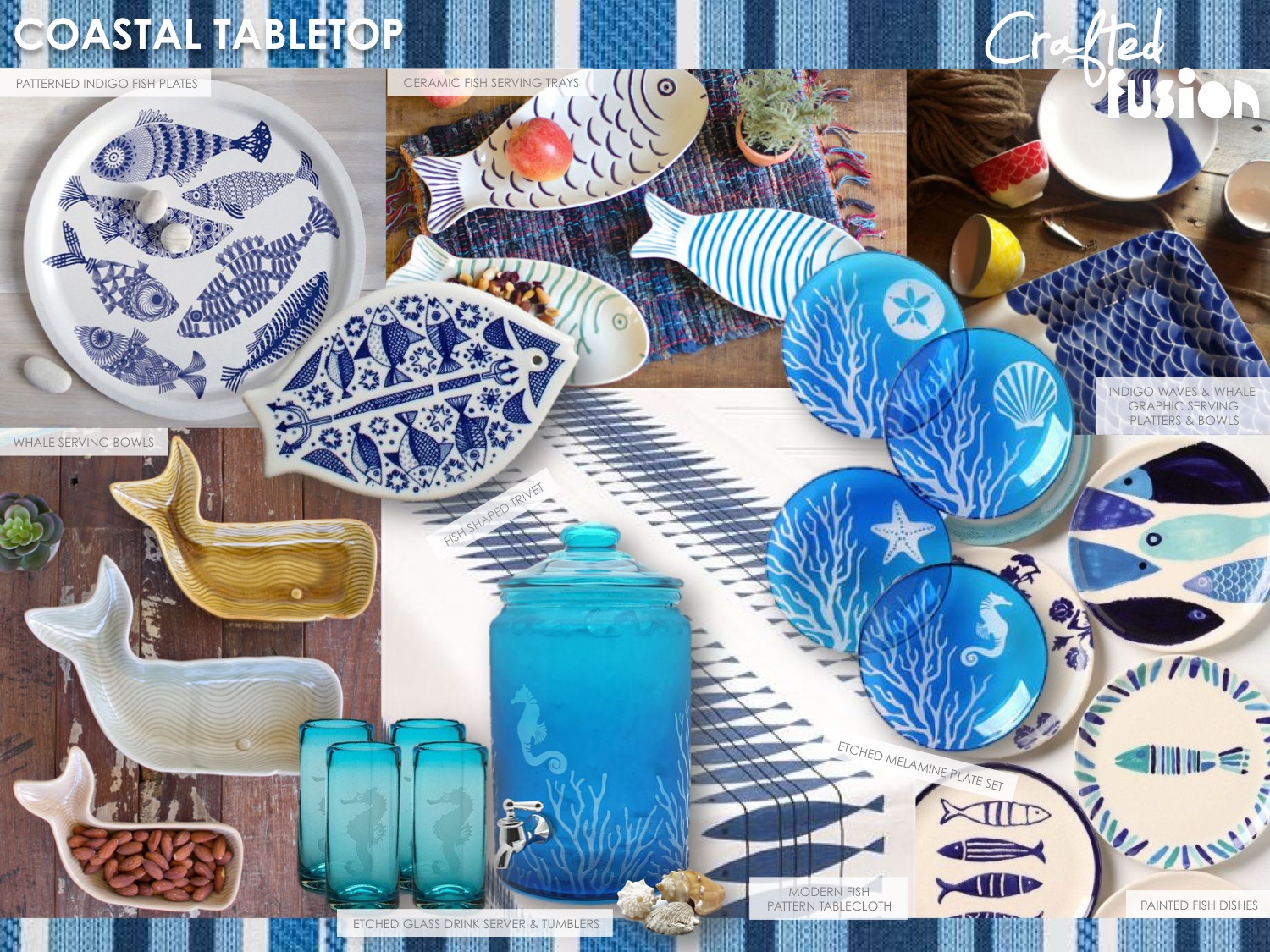 ADVERTISING & MARKETING
Finally, I develop new iterations of the trend reports specifically for marketing campaigns. They focus on details like key items, colors, and messaging, which is used on content across all digital, print, and broadcast advertising touchpoints. Images below show creative direction and execution of social media campaigns for
SS2018 Easter,
FW2017 Holiday
&
FW2017 Halloween.
My trend forecasting reports cover the following categories:
Apparel: Ready-to-Wear, Juniors, Menswear, Young Menswear, Girls, Boys, Women Activewear, Women Sleepwear, Men Activewear & Men Sleepwear
Interiors: Furniture, Lighting, Bath, Bedding, Soft Décor, Tabletop, Entertaining Tabletop, Barware, Children's Décor, Figurines, Hard Décor, Home storage, Office storage, Kitchen Textiles, Cookware, Bakeware & Kitchen Gadgets
Interior Novelty & Seasonal: Valentine's Day, Easter, Mother's Day, Father's Day, Fourth of July, Back-to-School/Campus, Halloween, Harvest, & Holiday
Outdoor Living: Outdoor Furniture, Outdoor Lighting, Outdoor Tabletop, Planters, Garden, Live Foliage, Outdoor Soft Décor, Outdoor Lawn Décor, Outdoor Bar, Swimming Accessories & Yard Games